Chez Denise - la tour de Montlhéry
Chez Denise - la tour de Montlhéry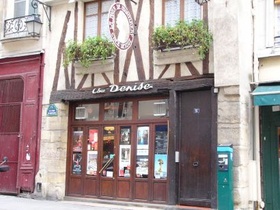 Chez Denise is one of the last bastions of Paris halles and a typical Parisian address.
You can eat any time, day or night, a kitchen "bourgeois" very good consistency. Two leaders share the furnaces, Bernard Noël during the day, and Anfray Michel takes over at night to cut prime rib and veal kidney.
Monthléry Tower is one of the last real pubs in the area, a reflection of what was the Paris of the postwar period. Patron of the restaurant for over 30 years, Denise is everywhere, sees and watches everything.
The kitchen is modern, authentic but beware pounds. The veal kidneys with mustard sauce, thick beef, tripe in Calvados, calf's liver in the English easily spill plates. Reservation required!
Chez Denise - la tour de Montlhéry

Address : 5, rue des Prouvaires
Zip code : 75001
City : Paris - France
Area : Louvre, Opéra, Chatelet
Opening hours : Monday thru Friday from 12am to 3pm and from 7:30pm to 5am / Closed for holidays from July 15 till August 15
Phone : 01 42 36 21 82
Your comments : Chez Denise