Miss Kô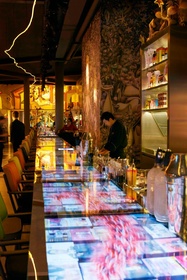 Purists be warned, Miss Kô is not an exercise in the fine art of Japanese cuisine, but a total experience. Entering Starck´s "crazy collage" (in his own words) is to embark upon a dreamlike voyage, into a Wonderland inhabited by giant teapots and large, hallucinatory Shitake mushrooms that appear to have grown on the shelf tops. Back in the real world, we follow the glowing Kâ to the back of the restaurant that buzzes like a Tokyo laneway, a heady din of dishes and steam rising from its busy stalls.
Under the benign gaze of Miss Kô, character created by David Rocheline (who also designed the friezes and plates), we explore an exciting and creative menu. Sushi, maki, bo bun, tataki, new style burgers... the inspiration is just as American as it is Asian. Perhaps not surprising, given that the owner (who also owns the Paradis du Fruit restaurants) divides his time between France and the USA.
The house specialty is wonderful: bearing the made-up name of 'Sashizza', it is a crunchy gyoza pastry base with thin tuna sashimi, delicately seasoned with truffle oil and shiso sprouts. A dish for sharing, it is so delicious that you can't help but ask for more.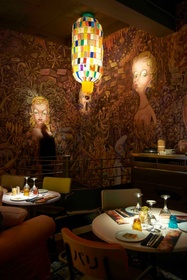 Next, its time for the sushi party. Some are really good, like the yellowtail with cucumber and piquillo sauce. Others are less successful, such as the unusual Red Baron with a strong Roquefort flavor that dominates the fish, or the American-inspired sushi, betrayed by too much spicy mayo.
The beef tataki is perfectly seared and melts in the mouth and the green bean tempura resemble delicious fries. But do not stop there as the dessert menu holds some nice surprises, such as the perfectly presented cheesecake or the completely regressive shu-shu, also for sharing. Otherwise, try scaling the Emperors' Himalaya, a traditional coconut ball revisited as a giant meringue, crowned with a mix of white chocolate and yuzu flavored whipped cream.
We will come back soon to Miss Kô, with friends, for here everything is meant to be shared: table, dish, food, discussion.
By Vanessa Besnard for Terroirs de Chefs
Miss Kô
Address :
49-51 avenue George V
Zip code :
75008
City :
Paris - France
Area :
Champs-Elysées, Arc de Triomphe
Website :
Miss Kô - Paris
Opening hours :
Open every day
Phone :
+ 33 (0) 1 53 67 84 60