Agapé Substance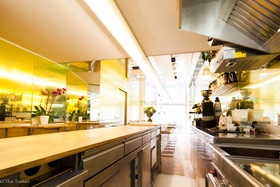 The Agapé Substance experience:Between table d'hôte and gourmet counter..
Young chef Gaëtan Gentil takes over with flair from David Toutain
Chef David Toutain is a hard act to follow, especially given his contribution to the excellent reputation of Agapé Substance. After his departure for new adventures, Laurent Lapaire and Olivier le France sought a new kitchen genius, which they have found in the person of Gaëtan Gentil.
Originally from Le Mans, Gentil has taken up the reins in the kitchen, equipped with an almost entirely new team. His mentors and peers are Emmanuel Renaut, Jean-François Piège (from Crillon days) and Yannick Alléno (Cheval Blanc). In particular, Piège taught him the fundamentals of technique and the art of simplicity.
This is why it is worth going to discover the young Parisian chef's talent, for behind the deceptively simple dishes is a perfect mastery of cooking, seasoning and the interplay of textures.
It is a pleasure to watch the team at work in the open kitchen-counter, although 'work' is an understatement: instead, there is a veritable worship of the produce, the cosseted star that must be respected and pushed into the limelight. Sea urchin, turnip-rooted chervil, monkfish, wood hedgehog, duckling, abalone… they are the actors in a perfect play of daring associations, unusual discoveries and precise textures.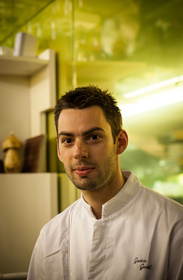 In the palette, crisp vegetables, tipsy with absinthe, seem to have come fresh from the garden and a langoustine Royale is delicately unveiled behind a cauliflower foam. Sea urchin nestles cozily with a chestnut, while marinated scallop rests coolly beside a lemon balm granita. Next, in a change of tone, there is a puffy pecorino ravioli followed by one of Toutain's famed dishes: a gently poached egg with a brioche foam, compté cream and smoked duck magret. The splendid dish is soaked up with multigrain bread from Eric Kayser, in a sort of luxury version of runny eggs and soldiers…
The langoustine tail is hay-smoked and served with a delicious, buttery salsify purée, while the Chalans duckling is a voyage unto itself, dressed with spices and sweet potato.
Each dish has its own wine and the pairings are intelligent. The sommelier, Thibault Simon, talks lovingly of his discoveries such as the white wine vinified cabernet sauvignon from the Domaine Léandre Chevalier, or the 2007 sauvignon from the Lot-et-Garonne, fragrant with apple and honey.
The meal ends with two fresh proposals: either mandarin jelly with coriander, Greek yoghurt and a honey wafer, or litchis with a macadamia crunch.
An open menu is not everyone's favorite, but when it procures as much pleasure, emotion and surprise as this one, we can only be delighted by our choices. And that's thanks to genius.
By Vanessa Besnard for Terroirs de Chefs
Agapé Substance
Address :
66, rue Mazarine
Zip code :
75006
City :
Paris - France
Area :
Saint-Germain-des-Prés / Quartier Latin
Website :
Agapé Substance - Paris
Opening hours :
Closed on Sunday and Monday // Open from Tuesday to Saturday, for lunch (12.30-14.00) and for dinner (20.00-22.00).
Phone :
01 43 29 33 83

Your comments : Agapé Substance