Chatomat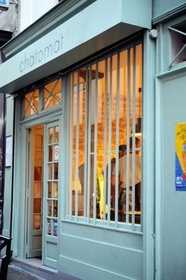 Brilliant cuisine in the heart of Ménilmontant, Chatomat is the new hole-in-the-wall restaurant everyone's talking about..
At Chatomat, everything works by groups of three, just like Alice and Victor (in the kitchen) and Antonio (on the floor): a choice of three starters, three mains, and three deserts.
The products on the menu reflect perfectly the team's essence: fresh, original and exotic. Like this mackerel, radish and dill, served surprisingly warm, to begin. Or the celeriac in a light salt crust, served with Paris mushrooms and a parmesan emulsion…or how to make a boring vegetable sexy and that melts in the mouth.
A starter that gets unanimous approval (Antonio admits it, it is also his favorite) and gives us a good idea of what is to come…Dishes cooked to perfection all along the way, whether it be the pork loin and its cauliflower purée, or the lamb and its crunchy vegetables. The dishes are tender, tasty, and nicely put together, the portions are generous.
But if there is one thing that we will remember forever, it's the pistachio ice cream, never-endingly smooth, served with figues and a moist semolina cake. Also successfully carried out: the miniature « baba » cakes (we are now sure of it: everything here is small and cute), generously soaked in rum, and served with a watermelon sorbet.
For those with a sweet tooth, the deserts – no doubt – seal the deal. For the others, it's the wine list, both concise and affordable. And for the rest (if there are any left!), it's the bill…Gracious for the amount of work provided, like this adorable winning trio.
Chatomat
Address :
6, rue Victor-Letalle
Zip code :
75020
City :
Paris - France
Email :
chatomatparis
SPAMFILTER
@gmail.com
Website :
Chatomat - Paris
Opening hours :
from 7pm every night except monday and tuesday
Phone :
01 47 97 25 77