Chez Michel de Thierry Breton
Chez Michel de Thierry Breton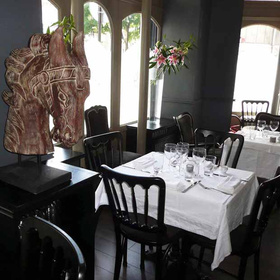 Authentic, rustic and tasty, Chez Michel is probably one of the best restaurants in Paris in terms of value for money.
Thierry Breton is one of those trained with Michelin-starred chefs who did not want to invest in a expensive institution to win Michelin star by assuming big expenses, and worries of managing the ensuing risks. Instead he decided to show and share his love for gastronomy is simply to say in a setting of Parisian bistro and doing what they like, a Grand Chief market cuisine, authentic and inspired.
Chez Michel serves authentic Brittany dishes. From fish to game, Chez Michel is one of the few places that still serves authentic traditional, home made family cooking, which is exactly the feeling you get when you walk through the door.
The atmosphere is warm and welcoming, with big wooden tables and old-style table towels.
Chez Michel has a prix fixe menu at 50 Euros but if you really want to test the mettle of this brilliant chef Thierry Breton, go for the menu "supplement" on the blackboard that is passed around.
Chez Michel de Thierry Breton

Address : 10, rue de Belzunce
Zip code : 75010
City : Paris - France
Opening hours : Mon-Fri 11:45-3pm and 6:45pm-midnight
Phone : 01 44 53 06 20
Your comments : Chez Michel