Frédéric Simonin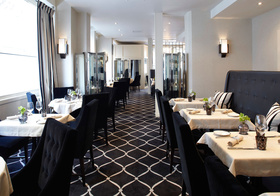 When Joel Robuchon took over from Ghislaine Arabian on Avenue Bugeaud to create 'La Table de Joel Robuchon', regulars quickly noticed the brilliant manner with which Frédéric Simonin executed the menu written by 'le chef'.
Today, following the purchase of 'La Table' by Jean-Louis Nomicos, Frédéric Simonin has decided to sign his own opus with a new venture on Rue Bayen in the 17th arrondissement.
The restaurant has been completely redecorated in a modern, discreet, elegant and convivial style.
Aged only 34,Simonin has thus decided to become his own master.
We have become accustomed to his emphasis on seasonal produce and there is no exception here. It is thus with great pleasure that we discover his crab served in tangy avocado jelly, green peas, red mullet, veal cutlets and the legendary ...."purée ".
There is also a slightly Asian touch, common to many of the 'Robuchon stable'. And then there are the desserts, which are simply irresistible.
Let's be clear; we are in the presence of an emerging, future great chef. This is not an archive for the good memories from the 'Table de Joel Robuchon'. The quality of the youthful service merits special mention: skilled, relaxed, friendly and unpretentious.
The wine waiter is excellent; you can safely put yourself in his hands.
Count on 38 Euros for the fixed menu, going up to 100 Euros for à la carte.
Happiness has a cost, but here it is justified.
By Thibault Leclerc, Terroirs de Chefs
Frédéric Simonin
Address :
25 Rue Bayen
Zip code :
75017
City :
Paris - France
Area :
Champs-Elysées, Arc de Triomphe
Website :
Frédéric Simonin - Paris
Opening hours :
Tuesday to Saturday / from 12am to 2:30pm and from 7:30pm to 11pm
Average à la carte prices :
38 €
Phone :
01 45 74 74 74

Your comments : Frédéric Simonin