Helen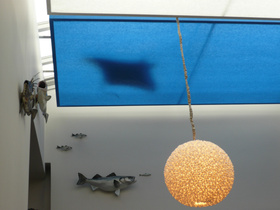 Helen
In the kingdom of fish!
The founders of Helen are Franck Barrier, house manager, and Sébastien Carmona Porto, young chef and true master of the fine art of fish preparation and cooking.

The restaurant is an ode to the sea, starting with the blue and white interior design. Crossing the threshold of Helen is like setting foot inside an aquarium; sardines dart around the walls, a giant stingray dozes overhead and on the plate, it is just as marvellous.
The menu is inspired by the catch of the day and dishes are as eagerly awaited as fishing boats coming home to port. Sole, wild sea bass, grouper, prawns...all the classics are there, as well as carabineros (giant red prawns), baby octopus and chapon (large Mediterranean scorpion fish with a poisonous sting).
Fleshy, carmine-coloured Spanish mussels are steamed and served with a dash of strong aioli. Scampi are served head to tail, resting on an aioli soufflé. Their flesh is exquisite, thanks to the exceptional care taken in their delivery: transported in individual boxes so as not to damage each other, the scampi are shelled alive and cooked just before serving.
The young sommelier's suggestions are intelligent and include several organic wines. She convinced us of the Mâcon-Chaintré 2007 domaine Valette. The desserts are well thought out and avoid a heavy finish to the meal - lemon tart for a sugary tang, chocolate for the addicts, and fruit, all served on an old-fashioned dessert trolley.
With exceptional, perfectly cooked produce, subtle flavours and original preparations, Helen is a success on every level.
By Vanessa Besnard for Terroirs de Chefs
Helen

Address : 3 rue Berryer
Zip code : 75008
City : Paris - France
Area : Champs-Elysées, Arc de Triomphe
Opening hours : Closed Sundays and Mondays
Phone : +33 1 40 76 01 40