Itinéraires
Itinéraires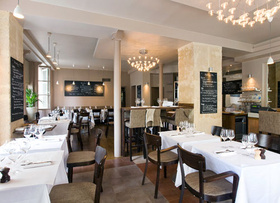 Itinéraires is a relatively new "gastro-bistro" in the fifth arrondissement.
Chef Sylvain Sendra, after closing his little bistro Le Temps au Temps near the Bastille, moved to this larger space near Notre Dame. We can find a long table d'hôtes, a bar for solo meals or quick bites, and a reasonably priced, market menu at 36 euros boasting beautiful flavors, impeccable service and elegant surroundings, it's really honest. Especially for a restaurant of the 5th, close to Boulevard Saint Germain.
The menu is written on a blackboard, and changes daily.
In short, a good place that is equally suited for a dinner with friends or a romantic evening without extravagance.
Itinéraires is on the itineraries of many Parisians and visitors. Best to book ahead.
Itinéraires
Address :
5, Rue de Pontoise
Zip code :
75005
City :
Paris - France
Area :
Saint-Germain-des-Prés / Quartier Latin
Website :
Itinéraires - Paris
Opening hours :
Noon to 2pm and 7:30pm to 10:30 (11pm on Friday and Saturday). Closed on Sunday and Monday.
Phone :
01 46 33 60 11
Your comments : Itineraires