Jadis
Jadis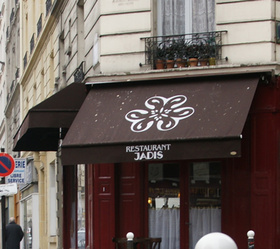 Guillaume Delage, former head of Gaya, opened in late 2008 its chic brasserie near the Porte de Versailles, Rue de la Croix-Nivert.
This young chef, Guillaume Delage, barely thirty years, offers us a touching gourmet flashback. It transcends the simplicity (boiled egg with spinach, veal with Swiss chard piece, floating island with pistachio), revisits the classics (stew of pigeons) or risk the plunge (fricassee of rooster combs and duck hearts) with the same success. The prices also seem from another time.
The best value is the EUR 34 set menu (EUR 25 for two courses), with several choices for each course; tasting menus are EUR 45 and EUR 65. Though simple, the gray-and-burgundy dining room decorated with mirrors and vintage posters has charm.
Guillaume Delage enriches the concept by concocting recipes for dishes that have forgotten an having a big appeal by consumers today.
Jadis
Address :
208, rue de la croix Nivert
Zip code :
75015
City :
Paris - France
Email :
contact
SPAMFILTER
@bistrot-jadis.com
Website :
Jadis - Paris
Opening hours :
Mon-Fri from 12:15pm till 2pm and from 7:15pm till 11pm
Phone :
01.45.57.73.20