KGB - Kitchen Galerie Bis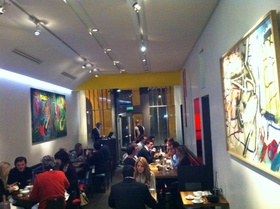 After the great success of Ze Kitchen Galerie – which is still a reference in Paris, William Ledeuil and Cédric Maréchal opened this KGB - Kitchen Galerie Bis in August 2009. Same spirit in a smaller place. Same French cuisine , orientally inspired.
We enjoyed "zors-d'oeuvre" as they name it, like "Ravioles de crabe", "Pork with coconut milk and ginger Thai-style" or "Deep fried lamb kofte with sweet chili dipping sauce".
For mains: Grilled cod, tarragon & Meyer lemon condiment", Grilled Seabream sauce vierge and grappefruit, Grilled suckling lamb of Pyrénées, Thai jus", "Sardinian gnocchi cooked in a bitter-sweet tomato marmalade with galangal and chorizo" , "Sparerib of pork grilled with an exquisite juice inspired by Japanese teriyaki".
And a Mango Cappuccino with guava sorbet and passion fruit emulsion..
To make it even easier you can simply taste the Discovery menu at 60€ with plenty of "zors-d'oeuvre" a fish, a meat and few desserts..
It was largely above "zaverage" served by best personnel in Paris: smiling and looking simply happy to do their job, always available to advise you according to your tastes and desires..
Very easy to find on the left bank.. Book a few days in advance
KGB - Kitchen Galerie Bis
Address :
25, rue des Grands-Augustins
Zip code :
75006
City :
Paris - France
Area :
Saint-Germain-des-Prés / Quartier Latin
Email :
kitchengaleriebis
SPAMFILTER
@orange.fr
Opening hours :
From 12am to 2:30pm and from 7pm to 11pm - Closed on Sunday and Monday
Phone :
01 46 33 00 85

Your comments : KGB - Kitchen Galerie Bis