L'Avenue restaurant in Paris (Avenue Montaigne)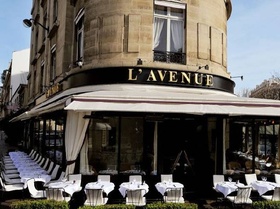 While doing your shopping Avenue Montaigne in the centre of Paris you must stop by L'Avenue which is a very trendy restaurant.
L'Avenue is located just near two of the most important French radios, so it's always full of known people: politician, news reporters and top model.. Nothing special to say about Jacques Garcia's decoration: it's velvet and gold (bit boring).. Food are good and.. expensive... around 60 euros/person.. To see and to be seen..
Book now
Last comment
Tags
L'Avenue restaurant in Paris (Avenue Montaigne)
Address :
41, av. Montaigne
Zip code :
75008
City :
Paris - France
Area :
Champs-Elysées, Arc de Triomphe
Email :
avenue
SPAMFILTER
@groupe-costes.com
Website :
L'Avenue - Paris
Opening hours :
Every day from 8 am to 2 pm
Average à la carte prices :
60 €
Phone :
01 40 70 14 91