L'Instant d'Or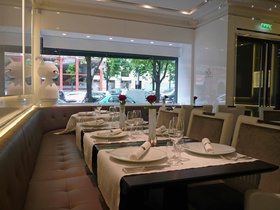 Out of this world on the Avenue at L'Instant d'Or, Frédéric Duca has put his bags down in the former Flora Mikula restaurant, bringing with him a brand new interior design that is totally white and zen yet with a slightly manga edge.
At only 34 years old, the young chef has already honed his skills at Passédat, Taillevent and Hélène Darroze. Now captain of his own ship, he has brought on board an elegant and highly qualified staff that includes the great sommelier Marco Martinetti.
All the necessary ingredients are there: location, design, ambiance and staff. The cuisine is remarkably intelligent and beautifully presented; the products are of an excellent quality. The chef often flirts with the very top by proposing truffle, lobster and wild sea bass.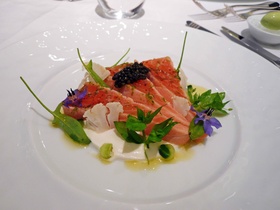 Salmon is prepared in a perfect tataki whose firmness is in exquisite contrast with a creamy cauliflower mousse accompaniment, followed by cucumber sorbet to cleanse the palette. The green asparagus, half pureed and half roasted, is paired with frogs' legs in a beef jus.
The show goes on with large artichoke ravioli that appear miraculously to stand up all by themselves. The roasted sweetbread medallion, delicately flavored with pineapple sage, melts in the mouth and is a perfect match for the potatoes creamed with morels and vin jaune sauce.
The head pastry cook is of Japanese origins and she invites us to discover a dessert of tangy lemon cream whose acidity is countered by a daring celery sorbet.
In sum, time spent at the latest Parisian gastronomic gem is indeed 'golden'. Faultless, the chef's work shimmers from the beginning to the end of the meal.
Vanessa Besnard for "Terroirs de Chefs"
L'Instant d'Or

Address : 36, avenue George-V
Zip code : 75008
City : Paris - France
Area : Champs-Elysées, Arc de Triomphe
Opening hours : Every day except Sunday and Monday
Phone : 01 47 23 46 78

Your comments : L'Instant d'Or