La Bigarrade restaurant in Paris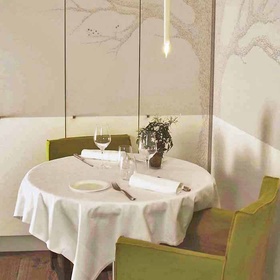 La Bigarrade is a new place to be in Paris even though we don't like very much the era, far from everything.. But it worth take a cab to discover this restaurant hold by Chef Christophe Pelé (former chef of the "Au Jardin" the restaurant of the Royal Monceau and has been working for years with Pierre Gagnaire… ). La Bigarrade – don't ask us the signification of this name – is one of the rare restaurants that does not have a menu but prepare an everyday Surprise Menu.. We enjoy this idea of not knowing what we are going to eat before to arrive on place.
And the real surprise is the quality and imagination of the young team working in a nice open wide kitchen: roasted cod served with tuna hard roe, Saint-Pierre de "petit bateau" (freshly fished) served in a tomato sauce with smoked eggplant, marinated Iberian rare pluma with leeks and seaweed of Kombu are real wonders and a amazing 4 desserts variation..
Only twenty place-settings.. Do not go there without reservation.. Better call about three weeks before your stay in Paris!!
La Bigarrade restaurant in Paris
Address :
106, rue Nollet
Zip code :
75017
City :
Paris - France
Area :
Email :
contact
SPAMFILTER
@bigarrade.fr
Website :
La Bigarrade
Opening hours :
From monday night to friday night - Dinner nightly until 10:30pm. Closed Aug.
Phone :
00 33 (0)1 42 26 01 02
Your comments : La Bigarrade