Le Chateaubriand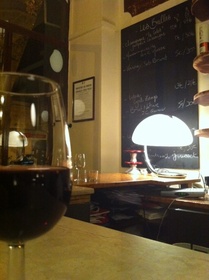 In a very cool atmosphere, thanks to young and funny waiters, we had that night at Le Chateaubriand a great prix-fixe dinner. (Finally really cool not to have to choose your menu)..
This Bistro "nouvelle cuisine" that we classified in "Bistronomy" is directed by young Chef Inaki Aizpitarte. The guy starts to be really known as he just being ranked N°9 best restaurant in the world by S.Pellegrino World's Best Restaurant Awards 2011 and N°1 of the French restaurant..
A bit overrated for us: yes it's really creative, nice and surprising but everything was not totally working and natural wines were not our choice.
Nevertheless we were expecting with pleasure the next surprise to come on our table and loved particularly that night: amuses bouche like the one with foie gras. Coquille Saint-Jacques with verdure was a delight. Cod fish with mushrooms a perfection of savors and colors.. Certainly a great chef to come.
Last thought: at 55€/ menu you should not hesitate too much.. Go go go!
A bit far from city center.. Take a cab..
Hard to book but easy to find a table – without reservation- for second service around 22:30 pm..
Eclectic clientele..
Prix-fixe night menu at 55€ and 115€ with wines in accordance.
Trusted reviews:
The New York Times: At dinner the only choice is a prix-fixe and it's a winner, perhaps featuring such dishes as eel flavored with orange juice and olive oil, warm cockles and mussels, teriyaki salmon, and mint lamb tagine. Some of the dishes are very daring indeed, including pork belly flavored with licorice...
Foodtourist.com: The wine list is an homage to the great new winemakers of France. While it only extends over a couple of pages it ranges from Overnoy's Arbois Pupillin to Dard and Ribo's St Joseph to Herve Villemade's stunning Les Ardilles and to the wines of Agnes and Rene Mosse who are idolised in the Loire and beyond...
Food Snob: Simplicity and deconstruction appear to dominate Aizpitarte's style. The chef has a reputation for taking recipes apart and reforming them, nominally(...)
Creativity is key to this chef. He is eager to 'amuse' and excite the diner 'with very distinct flavours colliding and eventually marrying'. To achieve this, he is not afraid to stray from the hip locavore label and to include ingredients from around the world..
Le Chateaubriand

Address : 129 avenue Parmentier
Zip code : 75011
City : Paris - France
Opening hours : From 12 to 3pm and from 19:30 to 23pm. Closed saturday for lunch, Sunday and Monday.
Phone : 01 43 57 45 95

Your comments : Le Chateaubriand