Le Chemise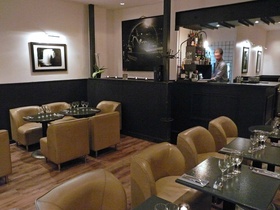 Le Chemise
In the bistronomy trend.
An ex-Tour d'Argent is at the stoves of this chic and modern bistro.
After meeting at hospitality school, Fabien Demarty and Cédric Lacaze opened their first bistro in December 2011, near the République Square in Paris. The two thirty-somethings are perfectly cast: Fabien at front of house gives a sincere, good humored welcome to clients, while in the kitchen the quieter Cedric concentrates on preparing his appetizers. Formerly at the Tour d'Argent, he has developed a culinary style that is both traditional and inventive.
The menu changes every month and currently features a creamy chestnut soup drizzled with truffle oil, a homemade duck foie gras and a duck confit flaky pastry. But the real winner is the plate of melting prawn dumplings delicately perfumed with lemongrass.
The main dishes are just as delicious: 7-hour thyme-infused lamb shanks, Erquy scallops with Noilly sauce, Chateaubriand beef tenderloin with green peppercorns, or salmon gravlax panned on one side, the flesh turning lolly-pink.
The wine list is well thought out and proposes very reasonable vintages such as the Morgon Domaine Bouland 2010 at 25€ or the Pinot Noir 'Signature' at 21€.
For a sweet and light finish to the meal, there is brioche done French-toast style and a pear pound cake that confirm the chef's talents as a pastry cook.
The two young men have succeeded the feat of offering bistronomy quality at a reasonable price, and the lunch menu at 15€ is a steal. Intrigued by the name of the establishment? Ask Fabien, who will be pleased to recount the numerous versions of the tale….
Review by Terroirs de Chefs
Le Chemise
Address :
42 rue de Malte
Zip code :
75011
City :
Paris - France
Website :
Le Chemise - Paris
Opening hours :
From 12am to 2pm and from 7pm to 11pm / Closed Sundays, Saturday lunch and Monday lunch.
Phone :
01 49 29 98 77

Your comments : Le Chemise