Les 110 de Taillevent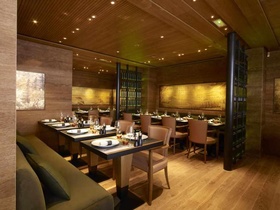 110 wines by the glass for astonishing wine/food compositions
How delightful it is to be surprised. A brasserie "Les 110 de Taillevent" that proposes 110 wines by the glass and where each dish is associated with four wines….
This hasn't been done before in Paris.
Hats off to the Gardinier brothers - Thierry, Laurent and Stéphane, all three at the head of the Taillevent group - who came up with the idea of sharing the treasures of the Taillevent wine cellar. The elegant interior is a magnificent tribute to the world of wine, from which designer Pierre-Yves Rochon drew his aesthetic inspiration: the wood in the dining room reminds us of oak casks; the bottle walls filter a warm green hue into the lighting; the metal-ringed tables evoke barrels. There are intelligent touches down to the very last detail, such as the table napkin designed to be jotted on during the meal, then torn off and taken home. In particular, a beautiful, 37-metre fresco of vines weaves its way around the walls, painted by Thierry Bruet in gold leaf. Sublime.
The 'sommelier' menu features 10 entrees, 4 fish dishes, 6 meat, 4 cheeses and 6 desserts, and is organised around the wine, which is proposed in four price ranges. Alain Solivérès inspired the menu, Emile Cotte delivers it, beginning with a delicate mackerel entrée, strongly perfumed with coriander and accompanied by an extraordinary but subtle mustard ice cream. The kidneys are plump and generous and the full flavour of tender calf's liver is perfectly drawn out by a 2009 Fronsac Château La Rousselle. The meal is completed with wild strawberries served on a panacotta bed with basil ice cream, accompanied by a recommended Crémant but just as good with the 2008 Mercurey Les Ruelles, Château de Chamirey. For there are no rules here, guests are encouraged to explore the menu and discover the treasures in the glass and on the plate. In two words: perfect harmony.
By Vanessa Besnard for "Terroirs de Chefs"
Les 110 de Taillevent
Address :
195 rue du Faubourg Saint-Honoré
Zip code :
75008
City :
Paris - France
Area :
Champs-Elysées, Arc de Triomphe
Email :
les110
SPAMFILTER
@taillevent.com
Website :
Les 110 de Taillevent - Paris
Opening hours :
Open every day from 12 pm to 3pm and from 8pm to 11pm
Phone :
01 40 74 20 20

Your comments : Les 110 de Taillevent