Les Fines Gueules
Les Fines Gueules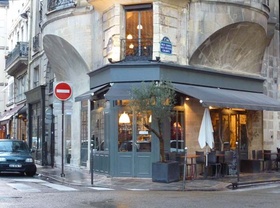 Near the Place des Victoires, in one of the oldest neighborhoods of Paris. The restaurant is on two floors and carefully decorated: stone walls, wooden tables, lamps coming down to the tables... A pleasure for lovers of wine, the glasses are Spiegelau, it changes from what we usually see.
The concept seems obvious: keep it simple with top products doing the shopping at the best craftsmen. Thierry Daniel for the sausage, Poujauran for bread, butter from Bordier, David Hervé for Marennes-Oléron, Hugo Desnoyers for meat...
The menu can be reduced to 4 plates, 4 mains and 4 desserts.
Owner Arnaud Bradol wisely treats their products simply, often serving it raw alongside a salad or sautéed potatoes: the steak tartare with mesclun salad dressed in truffle oil is unparalleled and we really recommend it !!!
In keeping with the theme, wines are organic or natural and many are available by the glass.
Les Fines Gueules
Address :
43, Rue Croix des Petits Champs
Zip code :
75001
City :
Paris - France
Area :
Louvre, Opéra, Chatelet
Email :
lesfinesgueules
SPAMFILTER
@free.fr
Website :
Les Fines Gueules - Paris
Opening hours :
Opens daily
Phone :
01 42 61 35 41
Your comments : Les Fines Gueules