Les Papilles
Les Papilles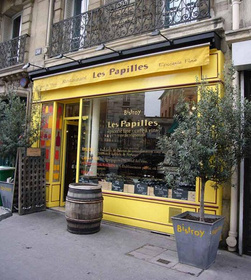 If you want to find a coffee bar and wine bar in Paris, Les Papilles will meet all your expectations.
This first thing you notice about Les Papilles is the wine, and the place does double-duty as a wine bar.
Laëtitia Cosnier and Bertrand Bluy respectively chef and pastry chef, took over this former wine cellar into a small bistro where the wine is always in the spotlight alongside a selection of wines from the South-West and elsewhere.
The wines sold at the store can be opened in the restaurant, with a small charge fee.
For a special event you can rent a room, business, bar and coffee Les Papilles is a nice discovery to make.
You can also take away your favorite dishes. In this bar and coffee, pets are allowed.
Les Papilles
Address :
30, rue Gay Lussac
Zip code :
75005
City :
Paris - France
Area :
Saint-Germain-des-Prés / Quartier Latin
Email :
papilles
SPAMFILTER
@hotmail.fr
Website :
Les Papilles - Paris
Opening hours :
Monday to Saturday from 10:30am till midnight
Phone :
01 43 25 20 79
Your comments : Les Papilles