Pirouette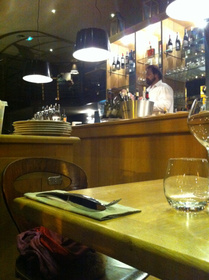 A new table in les Halles: Pirouette of the name of the old street where it is located. But also because its chef - who worked at Daniel Boulud in NY, Taillevent and the Meurice in Paris - likes to twist lightly the traditional recipes to make them his way..
Very bright decoration, made of wood and glass. A menu for lunch at 15€ and a menu Pirouette at 38€.
Get ready for: a lark without head (barded with bacon of Colonnata), a smoked eel with crystallized potatos, a piece of lamb with sage, crusty squids or the already famous "pigeon" perfectly cooked accompanied by turnip and a slice of bread with a liver emulsion on top, a bit strong but tasteful..
For each dish a small pirouette. Sublime.

Your comments : Pirouette