Pottoka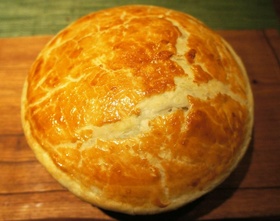 Pottoka is a new Basque bistrot in a fancy Parisian neighborhood next to the Eiffel tower..
What is Pottoka?
First clue: a creamy pumpkin soup and its beef foie gras cannelloni.
Second clue: cod chorizo croquettes and their sweet red pepper dip. A mixture of flavors, of textures.
Third clue: crispy veal pot pie and pork tonato – the Basque version of the Italian veal tonato…regional dishes, reinterpreted in a subtle, yet generous manner.
But there is no more obvious clue than the milk-fed veal cutlet, perfectly cooked, and its creamy mushroom polenta.
And if, for whatever reason, you still didn't know what Pottoka is, the enthusiasts would give you this last clue: a warm Basque cake, with its scoop of vanilla ice cream – one of those deserts that makes you realize that despite all your holidays and time spent in South-western France, you had, sadly enough, never eaten the real deal.
But thankfully for you, Sébastien Gravé (in the kitchen) and David Bottreau (on the floor) are here to save the day. The partners of the Fables de la Fontaine (Michelin starred restaurant a few meters away) sign here their masterpiece. For this is Pottoka.
By Emilie Leichnam - Terroirs de Chefs
Pottoka

Address : 4, rue de l'Exposition
Zip code : 75007
City : Paris - France
Area : Eiffel & Trocadéro
Opening hours : From 12am to 2 pm and from 7pm to 11pm - Closed on sunday
Phone : 01 45 51 88 38