Septime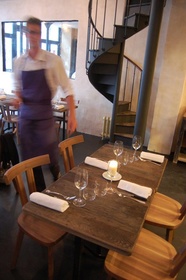 With the opening in Paris of attractive newcomer Septime, the neo-bistrot style has confirmed its place, thanks to highly talented young chefs who are reinventing cuisine with modern recipes and affordable prices.
Bertrand Grebaut is no exception. Formerly at Robuchon then Passard and l'Agapé, his launch is a perfect hit. The decor is attractive, the service particularly attentive and the menu clearly focused on quality produce. Basically, a recipe for success.
The menu is simple: 3 entrees, 2 mains and a nice selection of desserts. The choice and price of the fixed menus-21 and 26 Euros for lunch, 55 Euros for the dinner menu of house specialities- explains their popularity.
A few minor drawbacks however: the room is very noisy and the portions a bit, well to be honest, too small.
In order to recharge our batteries, my guest and I decided to have 3 entrees, a main dish, cheese AND dessert!
By Thibault Leclerc, Terroirs de Chefs
Septime

Address : 80, rue de Charonne
Zip code : 75011
City : Paris - France
Opening hours : From 12am to 2pm and 7pm to 11pm - Closed on Saturday and Sunday.
Phone : 01 43 67 38 29