Table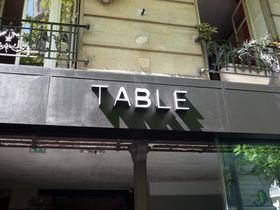 Already a radio critic, blogger and fine food connoisseur, Bruno Verjus has nonetheless surprised us with his new undertaking: he has opened his own restaurant "Table", in the 12th arrondissement of Paris near the bustling Aligre fresh produce market.
The name is well-chosen, for in the brick and metal ambiance of the restaurant's interior design, the tables come in all shapes and sizes - round, square, high, low, long and counter-style. Some of them are placed front row before the stoves, so that guests miss none of the action.
Verjus seems a happy man, welcoming guests in front of the bar before getting back to work in the kitchen – for he is also the chef, with a simple motto, "All I want is for people to be happy here."
To achieve this, he has sought out the very best produce from regional France: vegetables are carefully selected by Joël Thiébault, the blonde d'Aquitaine beef comes from Polmard's (an excellent stock breeder and butcher from Lorraine), black pork is from Gascony, Fourme from the Hautes Chaumes, morels from the Jura and Beaufort from the Alpine slopes of Mons. The produce comes straight from the farm, without intermediaries, and at the time of our visit the chef was waiting for his asparagus to be delivered…by express post. Everything is cooked upon arrival, one could say it is 'from the land to the plate', or 'from the sea to the plate'.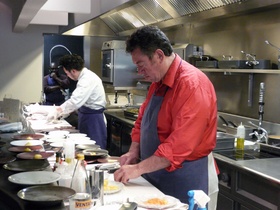 The menu offers 5 or 6 entrées, 3 mains and 2 desserts, according to the seasons, the daily catch and the market. The produce, the produce…
There is raw, sushi-style skipjack tuna, delicately served on a potato half. The horse mackerel, also raw and delicately flavored with wild herbs and citrus, simply captures the palette. Langoustine is grilled with thyme and pearly plump monkfish is deliciously complemented by bay leaf oil.
Some will claim that this is not 'cuisine', that some starters are insufficiently elaborate, or that the fish should be cooked. But this is not the house philosophy. Instead, one comes to 'Table' for the uncluttered taste of excellent, fresh, produce. Verjus' two Japanese kitchen hands appear to fully appreciate this and they chop, trim, roast and dress in silence, creating a quiet bustle whereby the three men don't need words to understand each other. They are simply there to enhance the natural produce and serve guests.
To finish, freshly roasted pineapples are served warm with vanilla ice-cream, in a delicious contrast. When we compliment him, Verjus modestly replies "The star in the kitchen is the produce". That may well be, but in this particular case, the produce also has a very talented manager….
By Vanessa Besnard for Terroirs de Chefs
Table
Address :
3 rue de Prague
Zip code :
75012
City :
Paris - France
Email :
info
SPAMFILTER
@tablerestaurant.fr
Website :
Table - Paris
Opening hours :
Open from Monday to Friday, lunch and dinner
Phone :
+33 (0) 1 43 43 12 26