Table Ronde restaurant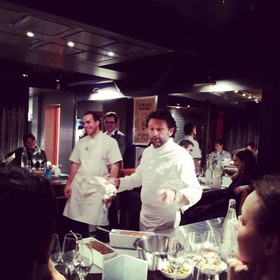 A concept in vogue!
What an enticing idea: an ephemeral dinner with the chef of your choosing. Would you like Alexandre Gauthier or Christopher Hache? Jérôme Banctel or William Ledeuil? Tough decision…
Nicolas Chatenier is behind Table Ronde, or 'Round Table', a unique place devoted to the discovery of contemporary cuisine. Architect Bruno Borrione designed the space, aimed at bringing the chef into direct contact with guests.
Established in the Marais neighborhood of Paris, the action no longer takes place in the dining room, but in the kitchen.
The interior and technical design is deliberately discreet, allowing the chef to occupy center stage.
For each ephemeral dinner, 16 lucky guests are invited to take a seat and appreciate the talent of the chef especially invited for that date.
So far Anne-Sophie Pic, Olivier Nasti and David Zuddas have taken part.
Table Ronde aims to meet a double demand: firstly, that of chefs who are interested in cooking one-off dinners, according to their whim and for a select audience. Secondly, that of cuisine afficionados who want to better understand how current cuisine is made, in direct dialogue with its best creative minds, the chefs.
By Sophie le Menestrel for Terroirs de Chefs
Table Ronde restaurant
Address :
58 rue de Saintonge
Zip code :
75003
City :
Paris - France
Area :
Marais, Notre-Dame
Email :
contact
SPAMFILTER
@tableronde.com
Website :
Table Ronde - Paris
Opening hours :
By night time but only on booking
Phone :
01.44.54.88.87

Your comments : Table Ronde