Viola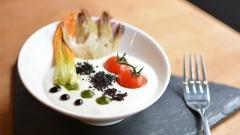 GOURMET ITALIAN BISTRO - The village of Batignolles welcomes a new temple of taste in Italian version, a trendy, cordial and hushed location, where you can linger with friends around a large table d'hôte. Its name? Viola.
VIEW OF THE KITCHEN - in terms of stove, the chef Enzo, a native of Puglia, develops specific cuisine around high-quality products. Modernity sometimes comes to jostle tradition: try the paccheri di Gragnano (Naples) with mozzarella, eggplant and shrimps. You will understand why this pasta have inspired poets...
IN TERMS OF WINES - This exclusively Italian menu guides you among small producers working with nature, organically or biodynamically. A unique choice in Paris that you will find that only at Viola.
Viola

Address : 80, rue Lemercier
Zip code : 75017
City : Paris - France
Opening hours : Déjeuner : de 12h à 14h30 Dîner : de 19h30 à 22h30 Brunch dimanche midi : de 11h à 15h Brunch samedi midi : de 12h à 15h