Bon Kushikatsu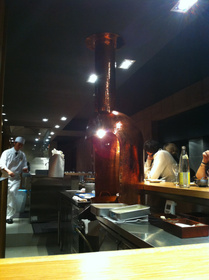 Eating Kushikatsu is quite a new experience in France. This new address called Bon Kushikatsu is one the very few Kushikatsu restaurants in Paris.
Kushikatsu is Japanese-style deep-fried kebab that is skewered on bamboo kushi; dipped in egg, flour and panko; and deep-fried in vegetable oil.
This dish comes from Osaka not to be confused with "tempura" coming from Tokyo.
A new address and already on everyone's lips..
Chef Yosuke Wakasa is coming straight from Osaka to conquer Paris with a simple strategy:
A beautiful and simple wood and stone decoration not far from a trendy area (..).
Only one menu at 48€ for the dinner: about 15 Kushikatsu, a miso soup, some noodles.. And this is it!
Our souvenirs: rhizome of lotus, shrimp, sea-bream, shitake stuffed with chicken, sprinkles, enoki mushrooms.
Our favourites: samurai's ball, asparagus, duck, foie gras, chateaubriand and turnip..
For the fun to discover Kushikatsu and a very nice interior design.
Reservations required.
Bon Kushikatsu

Address : 24 rue Jean-Pierre Timbaud
Zip code : 75011
City : Paris - France
Opening hours : From 8pm to 11pm // Closed on sunday
Phone : 01 43 38 82 27

Your comments : Bon Kushikatsu