Petit Usagi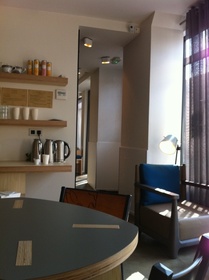 Fine Bento and very good vibes !
Barely open, Petit Usagi, a new Japanese restaurant is already an event in Paris. Not really astonishing when we know that "Petit Usagi" is the restaurant of Citizen Hotel, the last born of the Parisian boutique hotels - 6 floors for 12 absolutely perfect rooms - and that it is the invention of Shinsuke Kawahara creator of one of the best Japanese restaurant in Paris: Usagi.
Shinsuke Kawahara once again made the interior design: refined, classy and amusing.
He also composed the menu made of Bento:
- Veg every day,
- With chicken Tuesdays, Wednesdays and Thursdays,
- With the curry Fridays, Saturdays and Sundays. Served with a vegetables soup and a green tea it is 15€. simply perfect!!
And soon these bento will be delivered at home..
Petit Usagi
Address :
96 quai de Jemmapes
Zip code :
75010
City :
Paris - France
Website :
Petit Usagi - Paris
Opening hours :
12am to 4pm from Tuesday to Sunday
Average à la carte prices :
15 €
Phone :
01 83 62 55 50

Your comments : Petit Usagi