Sola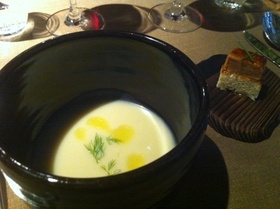 Hiroki Yoshitake Sola's Chef must love France and its gastronomy. Difficult to say concerning its cuisine what from Japanese or French tradition. Certainly has he kept the best of both countries: a true happiness of flavors, textures and feelings. Two degustation menus for lunch (35 or 50€) as well as for dinner (45 or 60€). We adored:
The "velouté" of grapefruit, fennel with yuzu oil.
A small" bouchée" of caramelized foie gras with miso.
A tartar of trout, beetroot, mascarpone and capers…
Razor clams with chorizo, cream of sweet peppers.
Roast guinea fowl, mushrooms, reds onions and miso sauce..
It is incomparable, surprising and would deserve all the stars of the Parisian sky.
If you sit downstairs you'll be asked to remove your shoes.
Since its launching Sola is often full, it is even necessary from now on to book a good week in advance.
Sola
Address :
12 rue de l'Hôtel Colbert
Zip code :
75005
City :
Paris - France
Area :
Saint-Germain-des-Prés / Quartier Latin
Email :
sola.contact
SPAMFILTER
@gmail.com
Website :
Sola - Paris
Opening hours :
From 12am to 2 pm and 8pm to 11 pm - Closed Sunday and Monday
Average à la carte prices :
35 €
Phone :
01 43 29 59 04