Le Dauphin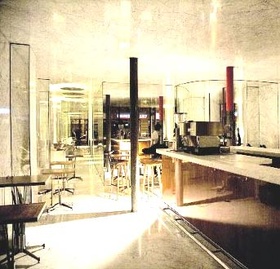 After the famous Le Chateaubriand (next door) - Inaki Aizpitarte and Fred Peneau opened by the end of 2010 the "Le Dauphin" a tapas bar decorated with white marble by Rem Koolhaas (Pritzker 2000) and Clément Blanchet..
No surprise design is really astonishing .
Concept at Le Dauphin is to present big tapas called in Spain "rationes" like "terrine of mallard", "tempura shrimp","cevice of Shade-fish", "risotto in its ink", "velvety of sweet chestnut with foie gras", "yellow Pollock à la plancha"…. It's delicious and creative like they are used to..
Excellent wine selection. It's a bit far from the city center, but trendy and fun by night time.. Worth to see!!
Le Dauphin

Address : 131, avenue Parmentier
Zip code : 75001
City : Paris - France
Opening hours : From 11am to 2 pm and from 7pm to 11pm - Closed saturday for lunch, Sunday and Monday.
Phone : 01 55 28 78 88
Your comments : Le Dauphin