Terroir Parisien by Yannick Alléno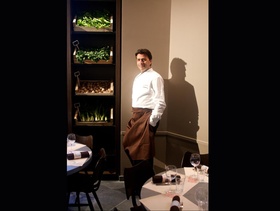 Terroir Parisien by Yannick Alléno
The best of regional Paris in your plate
The three-star chef pays a glowing tribute to his hometown at the new 'Terroir Parisien' restaurant, attached to the Maison de la Mutualité.
Four years after launching the 'Parisian produce' trend and publishing a book of the same name, Alléno wanted to invite Parisian gourmets to come and taste for themselves the excellent products cultivated in their local, greater Paris region.
The different produce is carefully selected and flavors delicately developed in the plate: ham or mushrooms from Paris, mustard and Brie from Meaux, veal, mint from Milly–la-Forêt, belle de Fontenay potatoes…
The modern bistro design is by Jean-Michel Wilmotte, whose graceful blend of cobblestone, zinc and wooden themes produces an elegant mix of polished and matt textures.
Since the restaurant's triumphant opening on March 10, the 74 seats (60 in the dining room, 14 at the counter) are besieged daily and it is a good idea to reserve a day or two in advance.
What are the ingredients for such success? Chef Alléno proposes a contemporary, often cheeky, reinterpretation of traditional products and dishes, all at a reasonable price.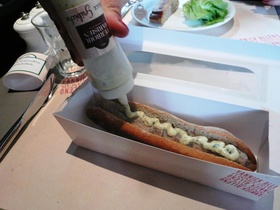 The house specialty is without a doubt the 'veau chaud' or veal hot dog with gribiche sauce (whose reputation has already made it to New York!). Nestled in its own little box bearing Alléno's name, a baguette is wrapped around a veal sausage made from calf's head and creamy bone marrow. Other delicious options are frou-frou eggs, Pantin paté, soups and watercress salad.
Next, skate is prepared with a butter-based sauce to which capers bring a perfect, acidic tang. Stuffed cabbage is revisited to become a divine, multilayered and generous millefeuille with creamy filling and crisp cabbage.
After a black Brie or ash-rolled goats cheese, there is dessert: milky brioche pudding or an apple pie bearing a strong resemblance to a mini galette des rois, with a perfectly cooked apple quarter hidden in its heart.
The diners are lovers of authentic, good cuisine and the restaurant leaves a pleasant impression of 'the old days', when we could fetch produce from a neighboring farm, basket in hand. The chef has said he is proud to propose, after much work, a genuinely Parisian cuisine. Well, frankly, we are delighted to taste it.
Vanessa Besnard
Terroirs de Chefs
Terroir Parisien by Yannick Alléno

Address : 20 rue Saint-Victor
Zip code : 75005
City : Paris - France
Area : Saint-Germain-des-Prés / Quartier Latin
Opening hours : open every day - Coming soon: Sunday brunch and a large, quiet terrace
Phone : 01 44 31 54 54

Your comments : Terroir Parisien by Yannick Alléno