The Wanderlust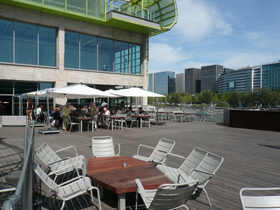 The Wanderlust "A living space for replenishing mind and body"!
It was the talked-about opening of last spring. In June 2012 a unique, multiplatform space opened up in the Fashion and Design Centre in Paris. Behind the launch: the Groupe Savoir-Faire, owners of the Silencio and Social Club nightclubs.
In the spirit of Juvenal's Satires, one comes to the Wanderlust to replenish mind and body: contemporary art installations, film projections, debates, DJ sets, yoga, Sunday brunch bazaar, nightclub, kids events (how to make your own superhero cape) plus 100% girly workshops such as how to make your own lipstick.
Fashion, photography, music, cinema… The arts take centre stage at the Wanderlust and it is only natural that the culinary arts should have a role there too.
Benjamin Darnaud concocted the restaurant menu and, drawn from his different travels and encounters, the menu perfectly reflects the nature of the chef and the place - eclectic, original and in perpetual motion. For at Wanderlust, nothing stays still very long.
Seated on an immense terrace on the banks of the Seine, one has to make a difficult choice between razor shells, bo bun with a gentle peanut touch, a tomato-buffala love affair, or bream ceviche with celery and granny smiths. While the presentation is classical, the chef's real talent becomes apparent once the tastebuds discover his subtly blended flavors. There is sometimes a tangy side, as with the razor shells in which we also detected a touch of vanilla.
The daily special was poached salmon on a bed of crisp vegetable carpaccio - fennel, carrots and raw zucchini. Hot fish on cold vegetables: it is daring, and the dish is further enhanced by a subtle citrus note.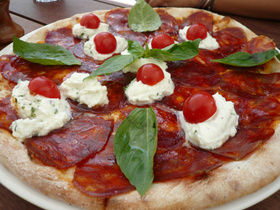 The pizzas emerge from a magical oven. One comes dressed with an exceptional chorizo, another combines fourme d'ambert cheese with lemon.
To finish with, an impeccably whipped cream observes a ballet of strawberries. For perfect textual equilibrium, the chef sprinkles crunchiness over the top.
You could spend all day lounging on this terrace. In fact, we'll be doing that, next Sunday. Start with an outdoor yoga class, followed by brunch. Settle in a deckchair with a cocktail and it will almost be time for pre-dinner drinks…
The Wanderlust
Address :
32 quai d'Austerlitz
Zip code :
75013
City :
Paris - France
Website :
The Wanderlust - Paris
Opening hours :
Open from Wednesday to Sunday, lunch and dinner

Your comments : The Wanderlust